The site:
The use of materials and building techniques
The different zones at Goa Chitra
Background of the site:
Goa Chitra is set up in Benaulim a typical Goan village now burgeoning into a town.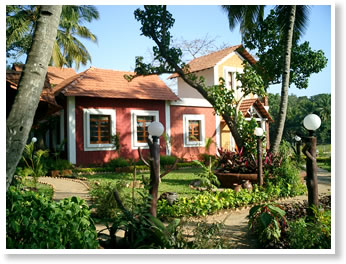 Despite three decades of tourism and rapid pace of modernization Benaulim has retained its old-world charm. It has a rich and varied history, sprawling elite mansions, scenic beauty and the warm hospitality of simple village folk.

Legend has it that Lord Parshuram's arrow struck here and the waters of the Arabian Sea receded to create Goa. Therefore the village is known as Benaulim etymologically derived from 'Bann-Alle- the arrow has come'.


Integration into the surrounding landscape and traditional Goan architecture in an eco-designed structure, which uses local materials, Goa Chitra is set in the backdrop of an 100% organic farm where the entire land of 1,20,000 sq. ft. is divided into parts. Considering that the land was neglected for over 30 years and most of the property was washed off, the proprietor had to engage traditional masons and laborers to restore the entire property

Goa Chitra is designed with materials found within 5 kilometer radius of the p
roperty with a very conscious use of traditional cultural styles which were usually tailored to suit the climate and the nearby resources, as well as the skills and the life style of the local people. The design is in holding with the philosophy that resources in today's world should not be wasted if their use is not necessary.

Reutilization and recycling of materials: wood work, doors, windows, pillars, railings and other materials and elements from over 300 demolished traditional houses, recovered by the designer, contribute to the contemporary design of the structure with traditional elements and technologies.
Design concept:
The innate beauty of the site is kept intact, its natural grazing grounds and the low lying areas are full of varieties of tree ferns, mosses and flowering plants, flamboyant colored butterflies and birds, Traditional outdoor areas with cow dung flooring and a variety of pet animals. The structure incorporates trees and
traditionally designed water bodies and pathways were traced. Design featuring the use of space to welcome light, wind and sun.

The design was based old maps of the Communidade system. The development commenced with creating original water bodies and topography of the land. Map lay out
The use of materials and building techniques:
Layout Plan:
While conceptualizing the spatial organization of Goa Chitra, the designer took stock of the highest point of the property which commands a panoramic vi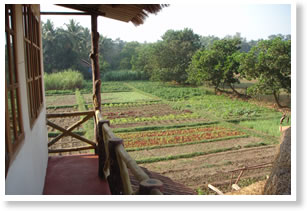 ew of the entire landscape, It is here that the Museum, the store house and the recreational block is sited, retaining the contours of the land and the view provided.
Underlying the site plan is a typical layout of a Goan rural village, used as an inspiration to demarcate the land at Goa Chitra into different zones. The plan uses the landscape and contours to locate the different zones. It is envisioned, that the flow of visitors from the reception area would be winding down beside the organic farm on to the pathway leading to the artisans area then to the museum area, out onto the continuation of the path leading to the performance and recreational area.
The combination of the overall concept and traditional structures displayed at Goa Chitra communicate tranquility of mind. The landscaped tract, curtained off on one side by the dense stillness of wild trees, reveals the elegance and grace of a space designed for life and work as an expression of faith.
The different zones at Goa Chitra:
Reception, Office and Parking area: Designed in the form of a traditional Goan house which will have an information counter, an interactive kiosk available for the visitor to explore Goa information and tourism possibilities for himself / herself. There is a secured parking for about 50 cars.(Total area used- 5000 sq ft.) An approach road paved with stones leads visitors to Goa Chitra.
"Tulsi" recreational area: This area is designed at 2 levels with indoor and outdoor sitting and has an open kitchen and a juice counter. The building has an art and craft gallery and a display of traditional costumes, musical instruments and an audio visual room. The building is a pucka structure using exposed masonry and shell windows which also houses other utility areas like the store room, toilets, etc. (Total area - 5000 sq ft.)
Performance area: an extension of the recreational area is the performance area designed as a traditional Angann with a band stand as a stage with performances being held at regular intervals. An amphitheatre provides an ideal space for recreation, traditional performances and craft workshops. This will bring in the crowd into the area as well as provide an insight into the cultural heritage of Goa. Performers will be attired in traditional costumes and performances can be essentially folk songs, dances and folk theater. (Total area-1000 sq ft.)
"Natural Elements"-Health and Organic Shop: The air conditioned shop (for the purpose of farm fresh vegetables.) Is opposite the Main recreational block which is designed with traditional material and having a typical facade of a Goan house.(Total area - 500 sq ft.)
Museum area: The structure shelters the ethnographical museum, the core of which is the collection of implements that were used in the pre-electricity era in Goa. The museum is designed keeping a 16 ft high oil-grinding implement as its focal point. The building then curves around a water body that is used for irrigating the organic farm. The floor is a work of art divided displaying a pale green china mosaic pattern with occasional contemporary colours and traditional cow dung flooring. The roof has UV filters that allow light to enter without damaging the implements.
"Roots" the organic farm: Professionally laid out farm with traditional waterways, bird baths and with all the farm elements. All retaining walls and pathways are constructed using the traditional Goan Laterite stone fixed with red mud. (Total area used- 80000 sq ft.)
Site development:
The first part of the endeavor was the revitalization/desilting of a traditional pond
which was bone dry due to years of neglect and soil erosion. It is approximately 4000 sq ft with 12 ft. deep retaining walls built with double rubble and mud at 15 ft. height with 4ft foundation to avoid further soil erosion and to avoid polluted flow of rain water. The revitalized 4000 sq ft pond is used to cultivate sweet water fish as well as for irrigation.
Alongside the revitalization, the desilting of approximately 6ft wide / 3ft deep and 2400 ft in length of traditional waterways commenced (to prevent chemical residues and Sylvania weed from outside being washed into the property). The repairs of protective bunds (to avoid further erosion of soil) and building of retaining walls Of Approximately 3000 running feet was also constructed. The next stage concerned soil preparation and plantation:
The soil was tested and further improved by multiple plowing and leveling after using gobar, neem cake, vermin compost, bone meal, chicken waste, leather etc. Top soil was recreated by the hummus method.
Furthermore a well laid out orchid with a plantation of coconut, mango, chickoo, banana, pineapple, amla, cocum, cashew, drumsticks etc, on a area of about 20,000 sq ft.
The fields were harvested with three types of indigenous rice namely Kendal, Honchro and Doga on an area of approximately 30,000 sq ft.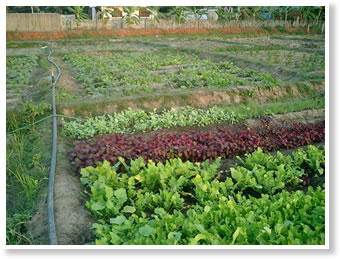 A kitchen garden of approximately 20,000 sq ft was planted with seasonal vegetables, herbs and spices. Baby corn, American sweet corn and hybrid watermelons besides other seasonal vegetables demonstrate productivity using organic farming and preserve a dying crop production.
Exotic vegetables is an experimentation of the project, with vegetables like cherry tomatoes, baby potatoes, sambar onions, turmeric, ginger, gherkins, zucchini, lettuces, medicinal plants , herbs, and spices grown. All experimentations to showcase fertility of land using hummus method.
To supplement the organic traditions:
A Bio gas Unit of 40 cubic ft is professionally designed unit for basic cooking using cow dung and human waste.
Organic manure tanks. 2 tanks of 6ft by 21ft at 3ft depth with roof the composting units culture organic composting using vegetable waste, cow dung and foliage for recycling waste.
The fertilization unit includes a special 6000 lts fiber glass tank with slurry buckets and is charged using fish and animal waste and this liquid is used during irrigation at 10%+90% water ratio as an excellent manure.
Vermi compost pits. 5 nos of 6ft by 3ft by 3ft depth with water channels, walls and roof and green houses with shade net 5 pits of 24ft by 9ft were constructed using traditional knowhow.
The irrigation system was conceived according to the following guidelines:
Construction of well approximately 30ft wide and 12ft deep. Etc.
12mm Drip irrigation system for grafts with micro misters. Approx 18,000 ft with 50mmx4kg HDPE line Approx 9000 mts. With sand filter of a capacity of 40,000 lts per hour and screen filter of 800 lts per hour.
8 Sprinklers S-20 for cash crop. And 1000 micro sprinklers/misters for vegetables and garden.
6000 lts Sintex overhead tank for installation of gravitational drip.
2 Nos Mono block 3 HP pumps for major Drip and Sprinklers and I No 1.5 HP. Pump for gravitational drip.